Bladder Papilloma As A Rare Cause Of Urogenital Bleeding In A Prepubertal Girl
Selim Kurtoğlu

Mustafa Armut

Figen Öztürk
Keywords:
BladderPapilloma, Urogenital Bleeding, Prepubertal girl
Abstract
There are different causes of urogenital bleeding in prepubertal girls. These include vulvovaginitis, urinary infections, urethral prolapse, urethral caruncle, vaginal foreign bodies, hormonal causes, tumors, posterior labial fusion, lichen sclerosis. Among the tumors, rhabdomyosarcoma and papilloma are prominent. In this article, a case of urogenital hemorrhage due to papilloma located at the base of the bladder was presented and the relevant literature was reviewed.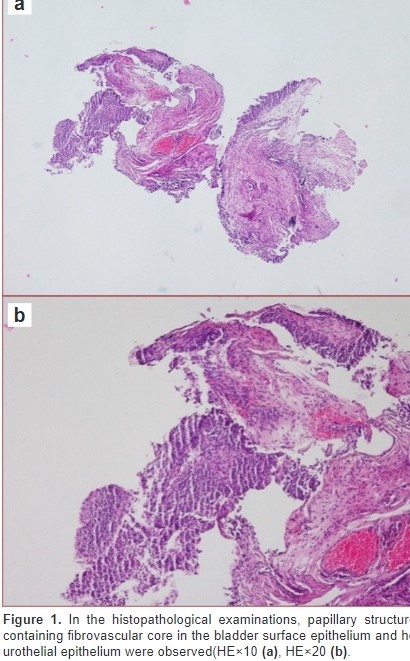 How to Cite
Kurtoğlu, S., Armut, M., & Öztürk, F. (2021). Bladder Papilloma As A Rare Cause Of Urogenital Bleeding In A Prepubertal Girl. The Journal of Pediatric Academy, 2(2), 77-79. Retrieved from https://jpediatricacademy.com/index.php/jpa/article/view/Full%20text
Copyright (c) 2021 The Journal of Pediatric Academy
This work is licensed under a Creative Commons Attribution-NonCommercial-NoDerivatives 4.0 International License.
The JPA offers members open access to reach all published articles freely within the framework of