Pragmatic Management of Hand Involvement in Extended Oligoarticular Juvenile Idiopathic Arthritis: Ultrasound-guided Serial Interphalangeal Joint Injections
ultrasound-guided interphalangeal injection

Abstract views: 116
Keywords:
Hand, interphalangeal joint, injection, ultrasound, juvenile idiopathic arthritis
Abstract
Small-joint involvement, including the interphalangeal joints of the hand, is less common in oligoarticular juvenile idiopathic arthritis (JIA). Ultrasound (US)-guided joint injections are also plausible for children. However, US-guided injections into pediatric small joints make the tips and tricks special because of the more difficult injection technique and greater risk of potential complications than with large joints. Here, we report the tips and tricks of serial US-guided interphalangeal joint injections in a male child with oligoarticular JIA who progressed to extended polyarthritis after an initial 6-month follow-up.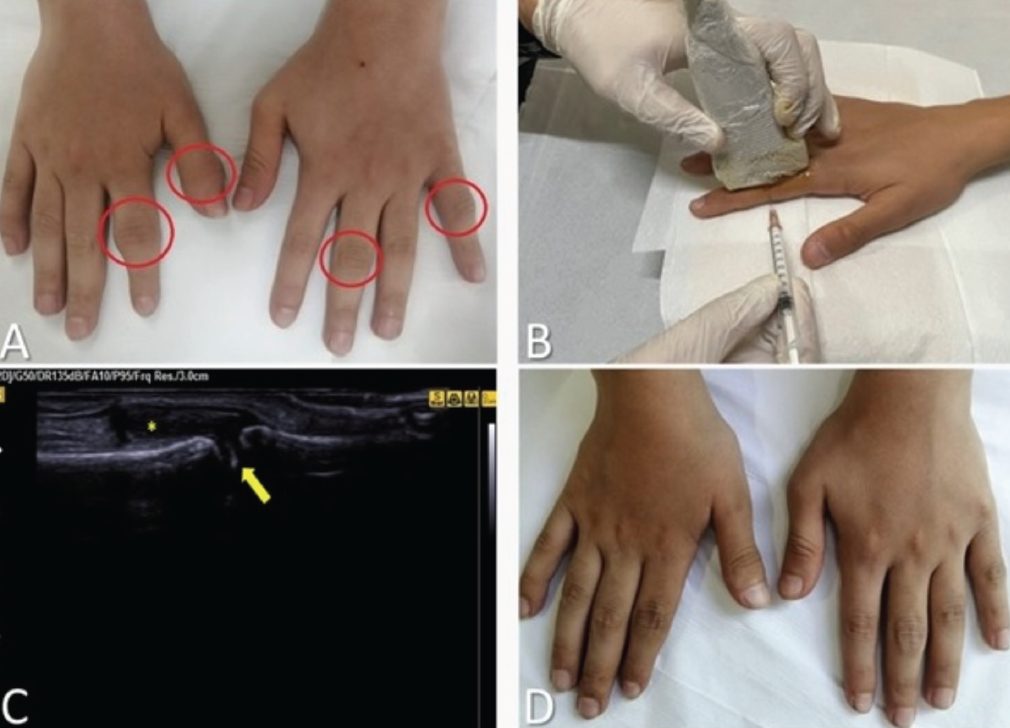 Downloads
How to Cite
Cüce, İsa, Yıldızhan, R., Veziroğlu, E., & Paç Kısaarslan, A. . (2023). Pragmatic Management of Hand Involvement in Extended Oligoarticular Juvenile Idiopathic Arthritis: Ultrasound-guided Serial Interphalangeal Joint Injections: ultrasound-guided interphalangeal injection. The Journal of Pediatric Academy, 4(2), 74–76. https://doi.org/10.4274/jpea.2023.206
License
Copyright (c) 2023 The Journal of Pediatric Academy
This work is licensed under a Creative Commons Attribution-NonCommercial-NoDerivatives 4.0 International License.
The JPA offers users open access to reach all published articles freely within the framework of