Staphylococcal Pyomyositis Within Initial Course of Juvenile Dermatomyositis Patient
Staphylococcal PM Withinin Initial Course of Juvenile DM Patient
Ayşenur Paç Kısaarslan

Pediatric Rheumatology

Hülya Nalçacıoğlu

19 Mayıs University Faculty of Medicine

Taylan Çelik

Çanakkale University Faculty of Medicine

Gonca Koç

Ege University Faculty of Medicine
Keywords:
Dermatomyositis, pyomyositis, treatment
Abstract
Infectious complications are increasingly reported in patients with connective tissue diseases. These complications are both related to using immunosuppressive drugs and organ dysfunctions caused by diseases. Pyomyositis is a pyogenic infection of skeletal muscle associated with immunocompromised conditions, especially human immunodeficiency virus (HIV) infection, diabetes mellitus, malignancy, immunosuppressive drugs, and rheumatic diseases. We presented a patient with juvenile dermatomyositis complicated by staphylococcal pyomyositis initial disease course. The patient did not respond to drainage and appropriate antibiotic therapy. Abscess formation successfully regressed with IVIG. Muscle inflammation and corticosteroids are possible predisposing factors for pyomyositis.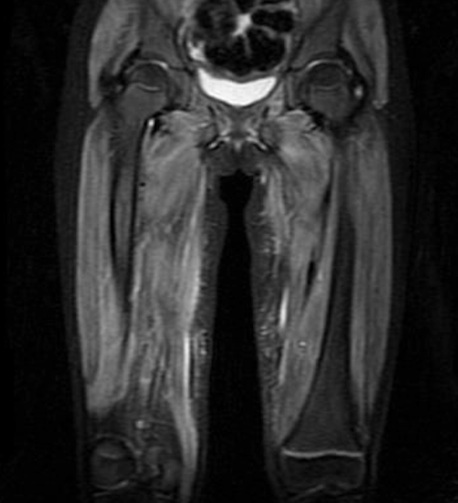 How to Cite
Paç Kısaarslan, A., Nalçacıoğlu, H., Çelik, T., & Koç, G. (2021). Staphylococcal Pyomyositis Within Initial Course of Juvenile Dermatomyositis Patient: Staphylococcal PM Withinin Initial Course of Juvenile DM Patient. The Journal of Pediatric Academy, 2(1), 36-38. Retrieved from https://jpediatricacademy.com/index.php/jpa/article/view/111
Copyright (c) 2021 The Journal of Pediatric Academy
This work is licensed under a Creative Commons Attribution-NonCommercial-NoDerivatives 4.0 International License.
The JPA offers members open access to reach all published articles freely within the framework of