Evaluation Of Clinical And Follow-up Results Of Patients With Congenital Nephrotic Syndrome
Evaluation of patients with Congenital Nephrotic Syndrome

Abstract views: 121
Keywords:
Congenital Nephrotic Syndrome, Nephrin Mutation, Dialysis, Transplantation
Abstract
Introduction:  Congenital nephrotic syndrome (CNS) is characterized by severe proteinuria, hypoalbuminemia, and edema within the first three months of life. CNS can occur due to perinatal infections or mutation of genes encoding structural or regulatory proteins of the glomerular filtration barrier. Treatment includes albumin infusions, nephrectomy, dialysis, and transplantation.
Objective: In this study, we aimed to evaluate the demographic, clinical, and follow-up results of patients with CNS followed up in our center between 2010 and 2020.
Patients and method:  Demographic, clinical, laboratory values of 8 patients diagnosed with CNS between 2010 and 2020, kidney biopsy results, genetic examinations, and follow-up results were retrospectively evaluated.
Results: A total of 8 patients (4 girls) were included in this study. The median age at diagnosis was 36 days (3 days-8 months) and the follow-up period was 34 months (7-114 months). There was a history of prematurity and consanguinity in 5 patients. Edema was detected at the admission of all patients. Albumin infusion and captopril therapy were started from the diagnosis. No pathology was seen in the tests for perinatal infection, and Ultrasonographic examinations were normal. In the genetic analysis, NPHS1 (Nephrin) homozygous mutation was detected in six patients, and coenzyme Q2 mutation was detected in one patient. Peritoneal dialysis treatment was performed in four patients during the follow-up, and unilateral nephrectomy was completed in one patient. During the follow-up, four of eight patients (three due to sepsis while on dialysis, one on the postoperative after the first day of transplantation) died. Three patients are followed up with kidney transplantation and one with supportive treatment.
Conclusion: According to our results, most CNS cases are genetic, and nephrin mutation is the most common cause. Management of complications in CNS is crucial for patient survival.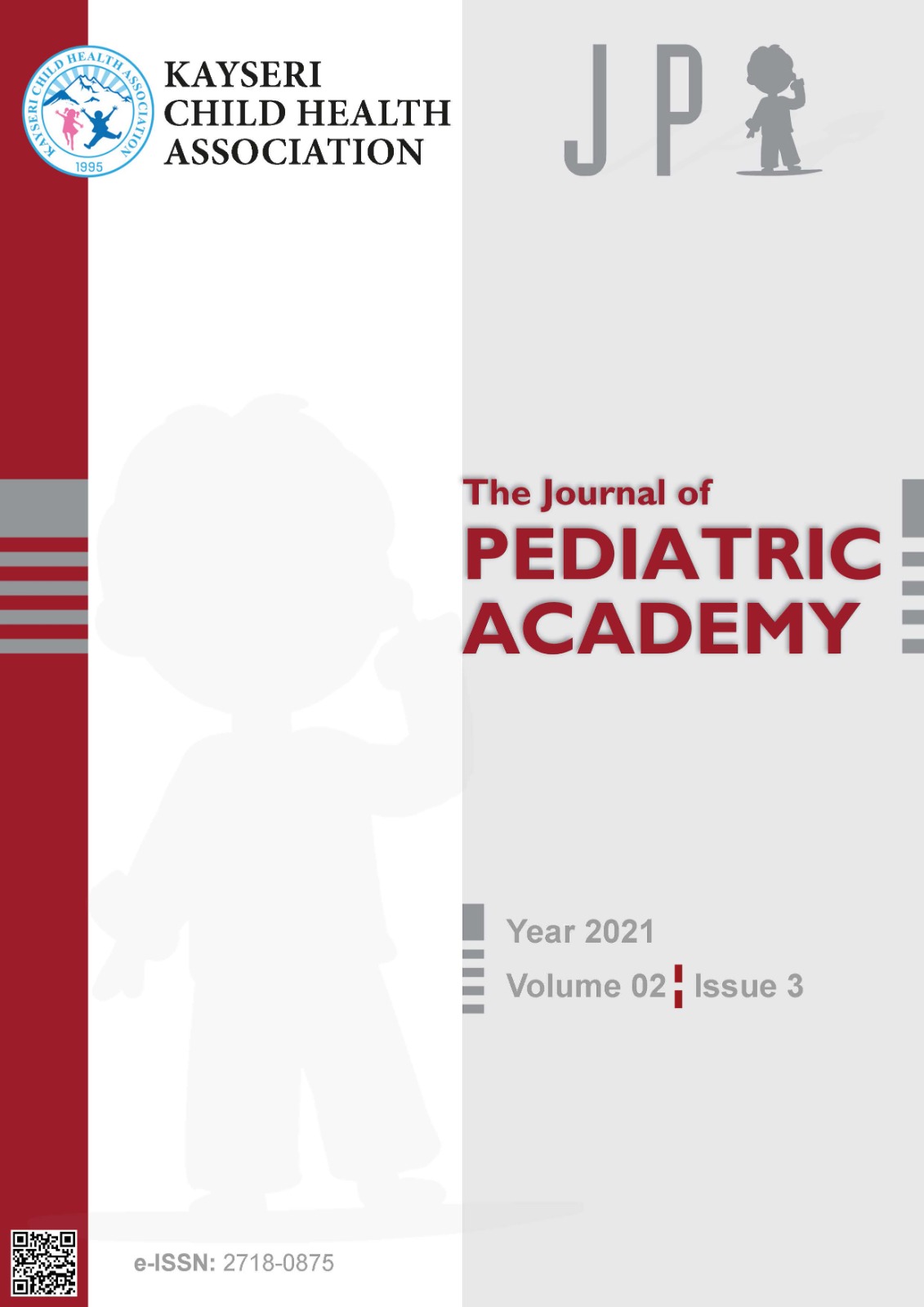 Downloads
How to Cite
Nalçacıoğlu, H., Tekcan, D., Onal, H. G. ., & Aydog, O. (2021). Evaluation Of Clinical And Follow-up Results Of Patients With Congenital Nephrotic Syndrome: Evaluation of patients with Congenital Nephrotic Syndrome . The Journal of Pediatric Academy, 2(3), 97–100. Retrieved from https://jpediatricacademy.com/index.php/jpa/article/view/142
License
The JPA offers users open access to reach all published articles freely within the framework of