Bacteriological Profile and Antimicrobial Resistance Pattern Among Healthcare-Associated Infections in a Pediatric Intensive Care Unit
Bacteriological Profile and Antimicrobial Resistance in PICU

Abstract views: 92
Keywords:
Healthcare-associated infections, antibiotic resistance, pediatric, intensive care, mortality
Abstract
Healthcare-associated infections (HAIs) are a global public health issue with clinical and socioeconomic consequences. These infections are important indices for the quality of healthcare services which are serious complications that should be addressed in pediatric intensive care units (PICUs). This study aimed to retrospectively examine the bacterial HAIs, the frequency of isolated pathogen microorganisms, the areas of infection, and the antibiotic susceptibility recorded in the surveillance system in our Pediatric Intensive Care Unit for five years between 01.01.2015 and 31.12.2019. Two thousand five hundred forty-five patients were admitted to the pediatric intensive care unit during the study period and treated. One-hundred ninety HAIs were detected in 99 patients. In the study, gram-negative microorganisms were most commonly seen (160/190). Pseudomonas aeruginosa, Acinetobacter baumannii, and Klebsiella spp. were the most common bacteria. Enterococcus spp. and coagulase-negative staphylococci were the most common gram-positive microorganisms. The mortality rate of a bacterial HAI was 40.4%. There was no resistance against vancomycin in Gram-positive microorganisms. The resistance rate against methicillin was 100% in coagulase-negative staphylococci and 50% in S. aureus strains. The cumulative rate of carbapenem resistance was found as 76.1% in Pseudomonas aeruginosa, 45.2% in Klebsiella spp. and 0% in Escherichia coli. In 2019, the resistance rate against colistin in Klebsiella spp. and Pseudomonas aeruginosa were 46.2% (6/13) and 20% (1/5), respectively. The resistance rate against carbapenem and colistin was 81.1% and 0% in Acinetobacter baumannii. It was observed that the use of carbapenem before an infection episode increased significantly, and the rate of carbapenem resistance reached 100% over the years in Pseudomonas aeruginosa and Klebsiella spp. A significant proportion of the isolates were multidrug-resistant strains, significantly threatening survival. Implementation of effective preventive strategies to combat the emergence of antibiotic resistance is urgently needed.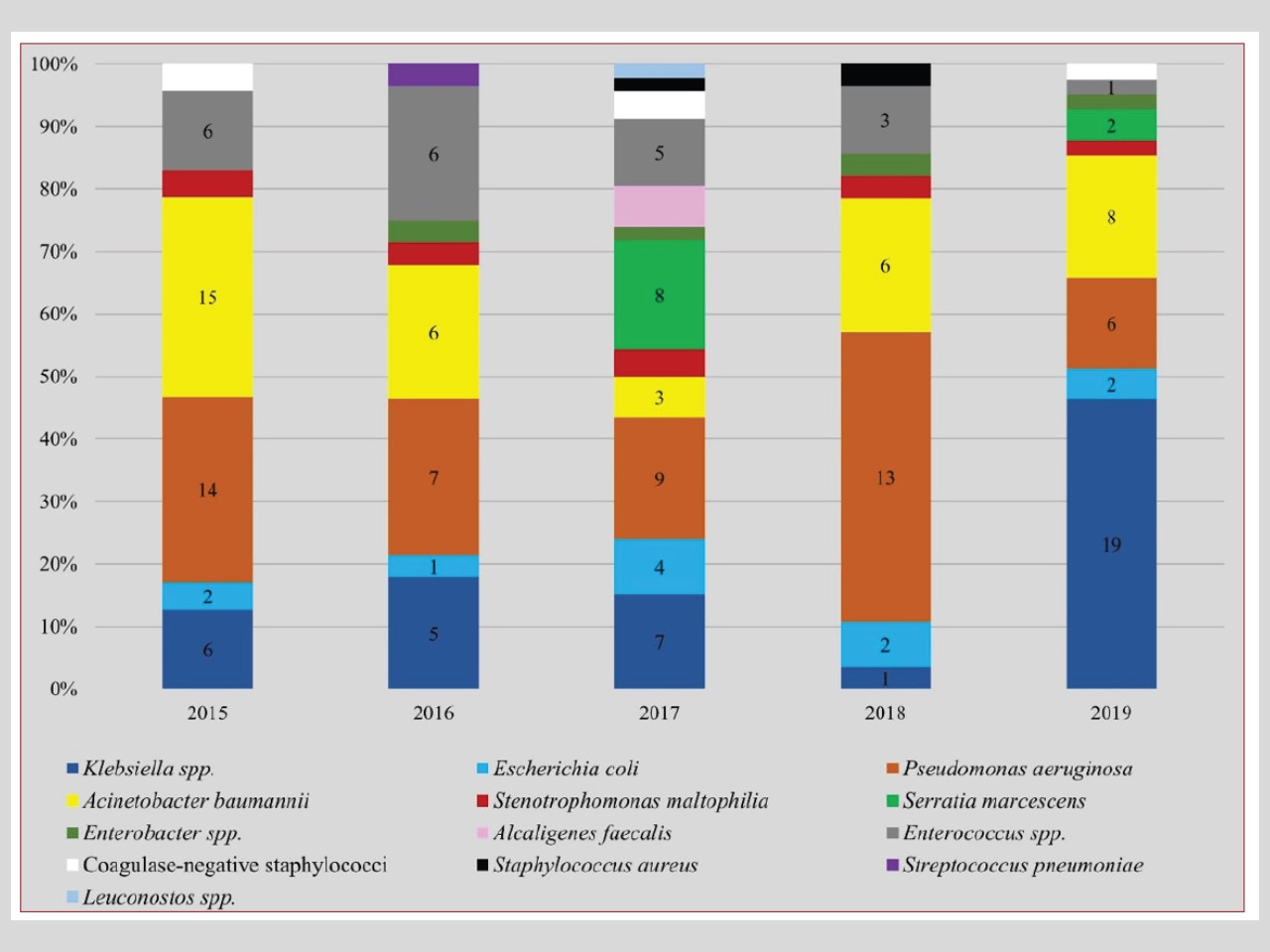 Downloads
How to Cite
Cetin, B. S., Şahin, A., Kürkçü, C. A., Küçük, F., Sağıroğlu, P. ., & Akyıldız, B. N. (2022). Bacteriological Profile and Antimicrobial Resistance Pattern Among Healthcare-Associated Infections in a Pediatric Intensive Care Unit: Bacteriological Profile and Antimicrobial Resistance in PICU. The Journal of Pediatric Academy, 3(2), 78–84. https://doi.org/10.51271/jpea-2022-189
License
Copyright (c) 2022 The Journal of Pediatric Academy
This work is licensed under a Creative Commons Attribution-NonCommercial-NoDerivatives 4.0 International License.
The JPA offers users open access to reach all published articles freely within the framework of