Evaluation and Neurodevelopmental Outcomes of Infants with Hypoxic Ischemic Encephalopathy Treated with Therapeutic Hypothermia: A Single Center Experience

Abstract views: 162
Keywords:
Hypoxic ischemic encephalopathy, therapeutic hypothermia, neurodevelopmental outcomes, newborn
Abstract
Hypoxic ischemic encephalopathy (HIE) is an important cause of mortality and morbidity in newborns. Our study aimed to determine the neurodevelopmental outcomes, risk factors, and the relationship between risk factors and prognosis of cases followed up with HIE diagnosis and who were treated with hypothermia treatment. Medical records of 23 patients who were followed up with HIE diagnosis in the pediatric neurology outpatient clinic between January 1, 2018, and December 31, 2021, and treated with therapeutic hypothermia in the newborn period were retrospectively reviewed. Denver Developmental Screening Test II was used in the developmental evaluation. Neurodevelopment was normal in 12 (52.2%) of 23 cases and retarded for age in 11 (47.8%) cases. Variables such as Sarnat encephalopathy score in the neonatal period, need for prolonged ventilation, presence of severe acidosis at birth, Apgar scores at the 1st and 5th minutes, and abnormal cranial magnetic resonance (Mrg) findings were determined to be major factors in determining neurodevelopmental prognosis in asphyxic cases. The male gender was found to be riskier in terms of prognosis. Of the patients with HIE, retardation was determined for fine motor skills in 52.2%, speaking in 39.1%, gross motor skills in 26.1%, and personal development in 21.7%. Epilepsy, cerebral palsy, and speech disorders were the most common chronic period problems in patients with HIE. Despite therapeutic hypothermia treatment, neurodevelopmental problems are still observed in newborns with HIE. We found that male gender, low Apgar score, severe acidosis, and abnormal cranial Mrg findings in the neonatal period are risk factors in determining the neurodevelopmental prognosis of newborns with HIE. Monitoring and supporting the development of HIE cases with risk factors from the first months of life and intervening in developmental problems promptly are crucial in order to improve long-term outcomes.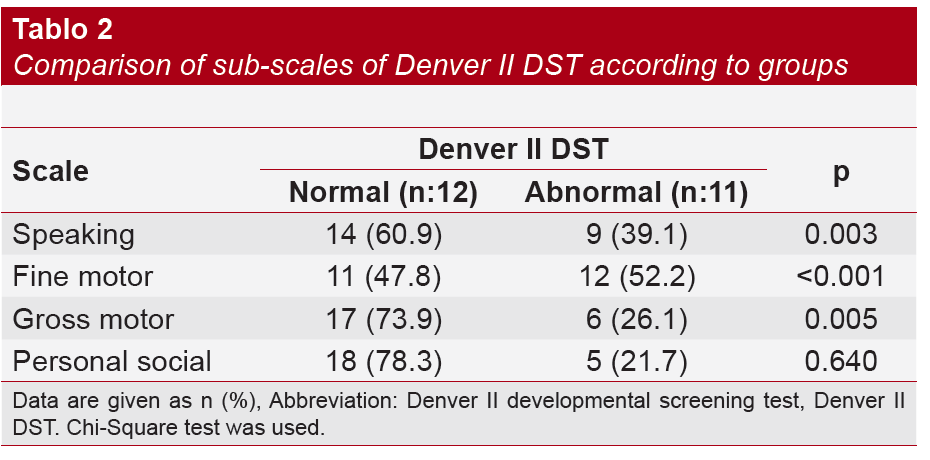 Downloads
How to Cite
Saygın Hekimoğlu, B. ., Dilber, B. ., Aktürk Acar, F. ., Bezirganoğlu, H. ., Eyüboğlu, İlker ., & Esenülkü, G. . (2022). Evaluation and Neurodevelopmental Outcomes of Infants with Hypoxic Ischemic Encephalopathy Treated with Therapeutic Hypothermia: A Single Center Experience. The Journal of Pediatric Academy, 3(3), 104–109. https://doi.org/10.51271/jpea-2022-183
License
Copyright (c) 2022 The Journal of Pediatric Academy
This work is licensed under a Creative Commons Attribution-NonCommercial-NoDerivatives 4.0 International License.
The JPA offers users open access to reach all published articles freely within the framework of