Evaluation of Etiological Causes in Children with Symptomatic Hematuria

Abstract views: 219
Keywords:
Hematuria, children, glomerular, non-glomerular
Abstract
Hematuria is an important and common symptom of urinary system pathologies in children, and careful evaluation is required for its definitive diagnosis. In this study, we aimed to determine the demographic and clinical characteristics and etiological causes of patients who applied to our pediatric nephrology clinic with hematuria. In this study, the record of 434 patients who were followed up in our clinic for macroscopic and/or microscopic hematuria were evaluated retrospectively. Demographic data, clinical findings, laboratory and imaging examinations and final diagnosis of the patients were recorded. Out of 434 patients with hematuria, 239 (55%) were male and 195 (45%) were female. Of the patients, 291 (67%) had macroscopic hematuria and 83 (19.1%) had glomerular hematuria. Non-glomerular causes were found in 80.9%, with a significantly higher rate. Most of the causes of non-glomerular hematuria were urinary tract infection and renal stones. Acute poststreptococcal glomerulonephritis (APSGN) was found to be responsible for the majority of glomerular diseases. This study shows that most of the pathologies that may cause hematuria can be detected with a detailed history, careful physical examination and simple laboratory tests.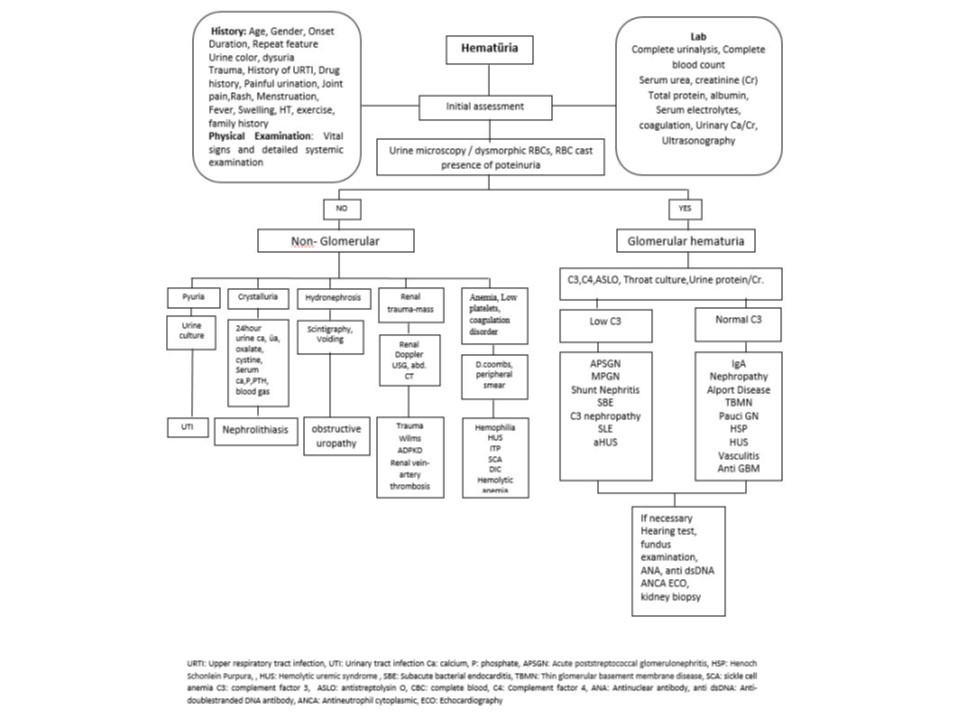 Downloads
How to Cite
Esen Ağar, B., Kara, A. ., Gürgöze, M. K., & Bulut, L. (2022). Evaluation of Etiological Causes in Children with Symptomatic Hematuria. The Journal of Pediatric Academy, 3(1), 16–19. https://doi.org/10.51271/jpea-2022-160
License
Copyright (c) 2022 The Journal of Pediatric Academy
This work is licensed under a Creative Commons Attribution-NonCommercial-NoDerivatives 4.0 International License.
The JPA offers users open access to reach all published articles freely within the framework of