Long-term Follow-up Of Adolescent And Adult Patients With Cystic Fibrosis: A Single Center's Experience
Aslı İmran Yılmaz

Büşra Özyalvaç

Gökçen Ünal

Sevgi Pekcan

Oğuz Eğil

Şebnem Yosunkaya
Keywords:
cystic fibrosis, adult, adolescent
Abstract
Cystic fibrosis (CF) is a chronic disease with autosomal recessive inheritance, chlorine duct defect, and multisystemic involvement. In this study, we evaluated the problems of our adolescent and adult patients with CF who were followed up in our unit to determine their problems at the regional level, to better observe their treatments, and to offer solutions for complications that occurred during their follow-up. Sixty-five patients with CF (50 adolescents and 15 adults) who consulted our clinic between September 2008 and November 2020 were included in this study, and their retrospective data were reviewed and saved. The mean age of the patients was 17.2 years, and the mean age at diagnosis was 7.1 years. Nearly three-quarters (73.8%) of the patients were adults, 26.2% were adolescents. Their mean body mass index (BMI) was 18.81 ± 4.06 kg/m2. The mean FEV1 was 82.94±25.22% in the adolescent group and 64.47 ±28.47% in the adult group. Pseudo-Bartter syndrome was the most common clinical presentation in adolescents (44%) and productive cough 28.6% was most common in adults. The rate of bronchiectasis was 73.6% in adults and 29.2% in adolescents. CF-related diabetes was seen in 33.3% of adults and 8.3% of adolescents. Gastroesophageal reflux disease was present in 25.5% of the adolescents, but it was not seen in adults. Mortality was 20.0% in the adult group and 4.1% in the adolescents. There was no significant difference between the groups regarding BMI, chronic pseudomonas colonization, and pulmonary exacerbation. In both groups, the most common allele (21.8%) was delf508.  We saw that the disease complications were less in the adolescent group. We thought that early diagnosis and treatment were related to this condition.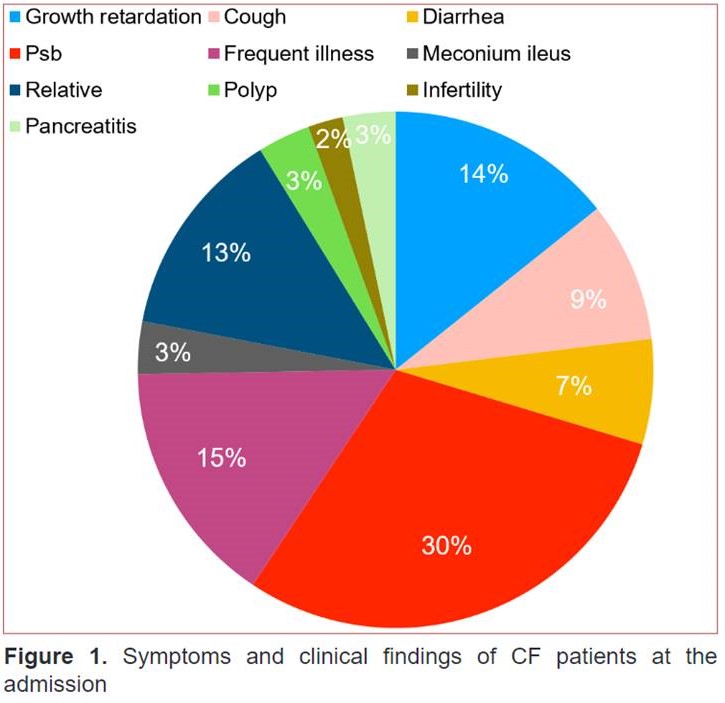 How to Cite
Yılmaz, A. İmran, Özyalvaç, B., Ünal, G., Pekcan, S., Eğil, O., & Yosunkaya, Şebnem. (2021). Long-term Follow-up Of Adolescent And Adult Patients With Cystic Fibrosis: A Single Center's Experience. The Journal of Pediatric Academy, 2(2), 53-58. Retrieved from https://jpediatricacademy.com/index.php/jpa/article/view/114
Copyright (c) 2021 The Journal of Pediatric Academy
This work is licensed under a Creative Commons Attribution-NonCommercial-NoDerivatives 4.0 International License.
The JPA offers members open access to reach all published articles freely within the framework of